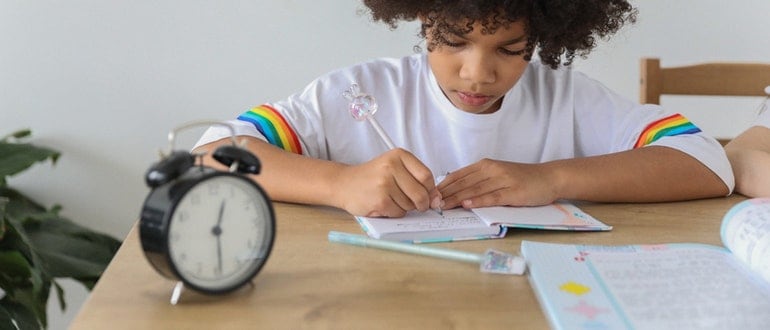 Socially distanced but more connected than ever before: How to get academic support during remote learning
Where and how students get academic support may have changed, but many best practices have stayed the same.
Before COVID-19, students could study and receive in-person tutoring in offices, libraries, classrooms, and coffee shops. With the pandemic still raging in Cook County, students of all ages now need to try to focus on learning at home. Achieving that focus and having academic support for remote learning are critical for success: a recently updated McKinsey study found that students of color are projected to be 8?12 months behind in reading and math by the end of this school year.
The need for best practices and academic support is similar between at-home study and in-person education. The National Association of Student Personnel Administrators (NASPA) recommends that student affairs teams continue their regular programs and services remotely as much as possible. Universities and K?12 schools are starting to do this. Student services that were previously available in person have shifted online. Universities have online learning support, libraries offer free remote homework help, and schools have online office hours.?
We at CPASS recommend these action steps for students to get the help they need in this time of distance learning:
1. Make a schedule. The American Occupational Therapy Association (AOTA) emphasizes that creating a schedule can help students focus and know what to expect, particularly during this time of extraordinary change. Post the schedule prominently so that students (and people students live with) can regularly reference it. ?A structured day will help you feel ?more in control? over your coursework,? Stanford University?s Jenae Cohn advises.
2. Workspace. Create a clutter-free, quiet, well-lit workspace with a comfortable chair, advises the AOTA. If only a common area is available, keep school materials in a consistent container to make a temporary, consistent space. To help stay focused, create a sign or tell other people in the household when they can talk without interrupting study. Noise-cancelling headphones can also help minimize distractions.
3. Tutoring. There are several free tutoring programs for K?12 students in Chicagoland. The Chicago Public Library offers online programs like chatting with librarians, homework help from teachers, support with using software and hardware, and appointments with CPL makers to help with design projects. Students also can connect with tutors who are in high school and college through Connecting Chicago, an online program started by six Chicago public school students. College students should contact their school?s student services office for distance support. Loyola University Chicago?s Online Tutoring Center and Success Coaches, for example, offer graduate students who are near peers to work with students to build study plans. They also offer tutoring services and help students establish remote-study groups.
4. Study tools.It?s estimated that the development of digital products and services has fast-forwarded seven years since the beginning of the pandemic. More free online learning software is available than ever before. Assistments is a math program that gives teachers and students immediate feedback and actionable data on their learning. Mathsnacks gamifies math concepts to help students stay engaged and better understand challenging concepts. Both tools were found to have a significant positive impact on student outcomes according to a recent Department of Education study.
At CPASS Foundation, we are here to support with introducing traditionally underrepresented middle school, high school, and college students to STEMM subjects, majors, and training. We provide guidance and thought leadership to help create opportunities for Illinois-based students to participate in STEMM-related fields.? Contact Dr. Stephen Martin to learn more about how you can partner with CPASS Foundation to create more opportunities for Black and other underrepresented students in the Chicago area.