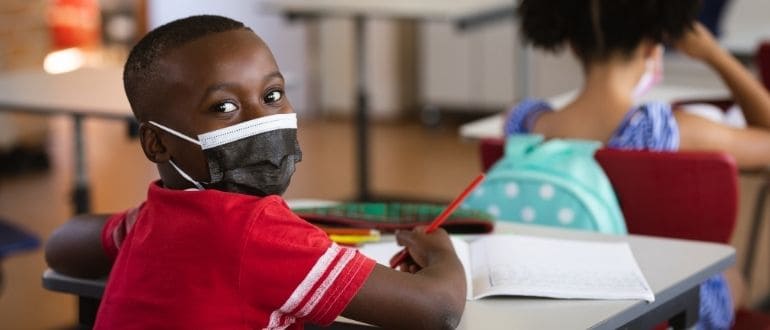 All students in Illinois will be required to wear masks at school, but there?s more schools can do to keep students and staff safe.?
The Delta variant of COVID-19 is throwing a curveball in our return to in-person learning. Following CDC recommendations, Illinois Governor. Pritzker has mandated that all students wear masks in school. All Chicago teachers and Cook County employees are required to get an approved COVID-19 vaccine by October 15. Most Chicagoland universities have required that students be vaccinated before returning to campus, a regulation that has been upheld by the US Supreme Court.?
While students under the age of 12 are not yet eligible for the COVID-19 vaccines, ongoing studies will soon determine whether the jabs are safe for children. The Illinois Department of Health does require that all students in K?12 and postsecondary institutions receive diphtheria, tetanus, pertussis, mumps, measles and rubella, and meningococcal vaccinations before being allowed to attend school.
As recently as 2019, vaccine hesitancy resulted in measles outbreaks around the country, leading Chicagoland health systems to mail letters reminding parents to have their children vaccinated against the highly contagious disease. Misinformation about side effects has led parents to keep their children from getting vaccinations that are critical to protecting their communities.?
We at CPASS recommend that communities focus on these strategies to help ensure a safe return to in-person learning:
Accessibility. Chicago government offices have been working hard to get every resident 12 and over vaccinated against COVID-19. The city has an extensive list of vaccination sites and will also come to private homes to administer vaccines. Anyone who receives in-home vaccination will receive a $25 Visa gift card. In Chicagoland neighborhoods where less than half of residents are vaccinated, residents no longer cite lack of physical access to vaccines as a primary reason for hesitancy. While many unvaccinated people do cite work schedules and challenging public transportation as reasons for not getting their jabs, generations of mistrust of healthcare and government institutions have left communities hesitant.

Communication. A study done by the Rockefeller Foundation found that people who identify with groups that have been historically mistreated by doctors and governments want to hear from people who ?have their same background or who truly understand their culture.? This research also shows that people are more likely to get themselves and their children vaccinated when they feel empowered to do so. The Health Action Alliance (HAA) created a Social Media Toolkit with messaging guidance for community leaders. The HAA also provides fact sheets with information particularly relevant for people who identify with specific populations. The CDC Vaccine Toolkit includes stickers, posters and factsheets that also provide helpful information for communities.


Prevention. Historically underserved communities are experiencing the most serious COVID-19 cases in the Chicago area. ?Combined, Blacks and Latinos account for 84% of the recent deaths and nearly three-quarters of all hospitalizations,? writes the Chicago Sun-Times. As outlined in a recent Heartland Alliance report, this is evidence of a domino effect of inequities faced by Black and Latino Chicagoans. Life expectancies vary tremendously by neighborhood; a person in the Englewood neighborhood can expect to live for about 69 years, compared with someone in Jefferson Park whose life expectancy is about 87. In Chicago Public Schools, there?s one school nurse for approximately every 2000 students. Programs like the Healthy Schools Campaign are working to get students better direct access to healthcare, and proposed Healthy Chicago Equity Zones will also seek to support communities that lack healthcare infrastructure.
At CPASS Foundation, we are here to support with introducing traditionally underrepresented middle school, high school, and college students to STEMM subjects, majors, and training. We provide guidance and thought leadership to help create opportunities for Illinois-based students to participate in STEMM-related fields. Contact Dr. Stephen Martin to learn more about how you can partner with CPASS Foundation to create more opportunities for Black and other underrepresented students in the Chicago area.