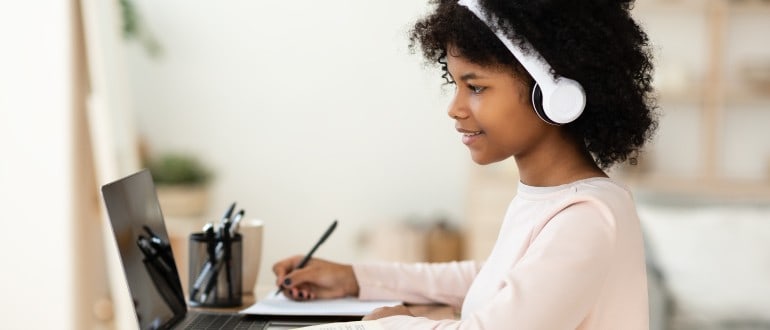 Back in 2005 when laptops needed a removable card to access wi-fi, distance learning was predicted to narrow the socioeconomic divide. Education writers Blaylock and Newman wrote that online courses could be ?a solution to inequities in educational opportunities that exist due to factors such as geographical location, school size, demographics of income and race/ethnicity, budgeting constraints, and substandard teachers.??
The pandemic has put this theory to the ultimate test. Yes, the 4 out of 5 children in Chicago with access to high-speed broadband have access to more information than ever before. But 100,000 students in Chicago under the age of 18 still don?t have regular access to broadband internet. In October, almost 20% of American parents reported that they quit their job or took a leave of absence to facilitate their child?s online learning, something many families cannot afford to do.?
Student attendance. Many families who can afford it have started sending their children to ?learning pods? or ?micro-schools,? small groups of students who do their distance learning together with the supervision of a teacher or nanny. This past spring, 90% of high-income students regularly logged into online learning platforms either from home or a learning pod, compared with only 60% of low-income students. The pandemic is expected to make student attendance even more important. A recent McKinsey study estimated that low engagement in online school may lead to more than a year of learning loss. The study also predicted that Black and Latinx students will experience the most loss.?
Isolation. Learning pods also give students the opportunity to socialize in person, allowing them to develop necessary skills like self-control and teamwork. Grants and free school micro-programs are available for low-income students, but they are limited and often require significant involvement that not all parents may be able to contribute. Students at all income levels are missing in-person traditional milestones like graduations and proms and are experiencing increased depression and anxiety as a result of months of isolation. Recently, the CDC reported that in March through October, almost a third more children were admitted to an emergency room for mental health reasons compared with last year.?
Special needs. Distance learning is particularly challenging for students with special needs who rely on in-person socialization to support their development. For students whose families can afford a learning pod, it still can be challenging or impossible to find one that supports different learning needs. For students from low-income families, school has often been the only place where their family can afford counseling and specialized academic services. Last spring, instead of remotely receiving their services in real time, many students were simply given additional packets of work. Sometimes, parents without any prior training were given videos instructing them how to provide services for their children themselves.??
Homelessness. Students experiencing homelessness already manage more stress than their peers. For many children, school was a second home that was a stable, safe environment. Now that place is no longer available. While many communities continue serving free meals as schools are closed, students no longer have the reliable safety of eating breakfast and lunch where they are learning, adding yet another level of stress.
We at CPASS recommend these action steps:
1. Build family-school relationships.?Make sure school staff and teachers are routinely reaching out to students and families to ask what kind of support they need before offering services that might not be relevant to their situation.
2. Reach out to community-based organizations.?Local community-based organizations and faith groups like these have established relationships and resources. They know where there is need, and where there are resources.
3. Make remote learning centers available for all students. Chicago Public Schools is running Child Learning Hubs, but space is limited and the adults supervising students can?t always provide academic support.
4. Remote services.?Covid-19 has accelerated the development of telemedicine. Distance learning creates a great opportunity for schools and communities to explore the benefits of offering remote counseling and special education services. Remote instruction allows In-demand special education teachers to work with students across schools, regardless of their geographic location or the location of the students.
At CPASS Foundation, we are here to support teachers and students by introducing traditionally underrepresented middle school, high school and college students to STEMM subjects, majors and training. We provide guidance and thought leadership to help create opportunities for Illinois-based students to participate in STEMM-related fields. We encourage you to reach out to Dr. Stephen Martin, CPASS executive director, to learn more about how you can partner with the foundation to create more opportunities for Black and other underrepresented students in the Chicago area.