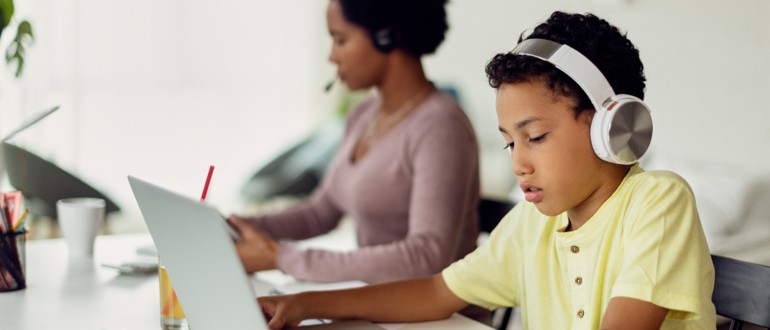 Transitioning back presents welcome challenges, though some families still aren?t ready for their children to return to the classroom.
Now that half of all people in Cook County and 45% of the US have been fully vaccinated for COVID-19, many students have returned to full-time in-person learning and all schools and universities are expected to resume in-person classes in the fall. This recovery continues to highlight students? disparate access to necessary resources. During distance learning, almost 30% of Black students in Chicago never logged into virtual school, compared with only 14% of white students. This isn?t surprising: a McKinsey report estimates that Black and Hispanic students were about twice as likely to have had no access to live teachers during virtual learning.
Yet now that schools are opening back up, many parents are hesitant to resume in-person learning. A recent Brookings Institution report showed that 38% of Black parents and 27.7% of Hispanic parents either plan to continue remote learning in the fall or aren?t yet sure about their plans, compared with only 17% of white parents. Most of those parents say they?re not ready to send their children back to school because they don?t trust the school to be safe enough or because their child is doing well working remotely.?
We at CPASS recommend that students, families and learning institutions focus on these three factors when transitioning back to in-person learning:
Anxiety. Families across the world are grieving and may be nervous about the ramifications of returning to in-person learning. According to the Mental Health Foundation, ?the way that children and young people respond to those feelings of loss and grief will differ widely ? some may seem sad or withdrawn, others may appear irritable or angry.? Returning to in-person interactions after more than a year in isolation may also raise feelings of social anxiety for children and adults. A RAND Corporation study found that stress on teachers was the most common reason teachers cited for leaving the profession, both before and during the pandemic. To prevent compassion fatigue, it?s recommended that schools reach out to community groups and support agencies for support.

Learning gaps. Before the pandemic, only 8% of US high school students enrolled in Calculus calculus classes were Black. COVID-19 deepened the disparities between students of color and those who are white. McKinsey estimates that by the end of the 2020?2021 school year, Black and Hispanic students could be 6?12 months behind in their learning, compared with only 4?8 months for white students. The gap continues beyond K?12, too. Overall undergraduate enrollment decreased by 4.4% between fall 2019 and fall 2020, but 5.4% fewer Hispanic and 7.5% fewer Black undergraduate enrolled for the fall 2020 semester.

Interventions. To set students up for success after months away from the physical classroom, the National Association of School Psychologists advocates for students to receive at least a month of high-quality in-person instruction before assessing students. To help students catch up, a recent University of Chicago study showed that ?individualized, intensive tutoring can double or triple the amount of math high school students learn each year, increase student grades, and reduce math and non-math course failures.?
At CPASS Foundation, we are here to support with introducing traditionally underrepresented middle school, high school, and college students to STEMM subjects, majors, and training. We provide guidance and thought leadership to help create opportunities for Illinois-based students to participate in STEMM-related fields. Contact Dr. Stephen Martin to learn more about how you can partner with CPASS Foundation to create more opportunities for Black and other underrepresented students in the Chicago area.