MCAT registration fees, the cost of travel for interviews, and other medical school-related expenses can pose obstacles for low-income students seeking to enter the profession.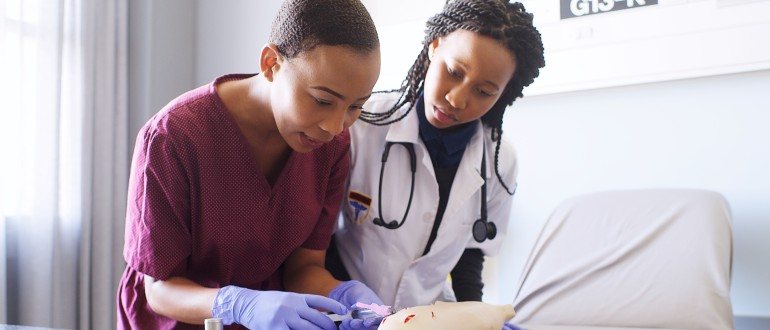 When David Velasquez, 24?a third-year student at Harvard Medical School and the child of immigrants from Nicaragua?registered for the Medical College Admission Test (MCAT) during his junior year of college, he asked the Princeton Review for a discount on one of its products, a $1,200 prep package.?
?I thought maybe they?d hear I was desperate and put me on a payment plan,? Velasquez told the New York Times. When the company refused, he was forced to work overtime and save for the prep package. Afterwards, there was less than $5 in his bank account.
There are thousands of students in David?s shoes. His story points to broader patterns in the medical school admissions process, which we must address if we want to see more diversity in the profession
Medical school demographics have hardly changed since 1988.
A decade ago, a national study found that more than 75% of American medical school students came from families with the top 40% of income in the country, more than $75,000 a year. Last year, a study from the Association of American Medical Colleges looked at medical school demographics and found very little changes. From 1988 to 2017, more than three-fourths of U.S. medical students came from affluent households.
Across the country, students like David are forced to make tough choices.
Medical school applicants from low-income families face numerous financial obstacles on their path into the profession:
$315 for MCAT registration

$170 for the application to the first school and $40 for each additional application

An average of $200 for travel and attire for each interview

$600 or more for annual registration fees for various certification tests
For Shawn Johnson, the hidden costs of medical school has meant making tough choices. ?You have to decide, do you use your loans for a study aid or for a rainy-day fund in case someone at home gets sick?? he said to the Times. ?I haven?t had dental insurance in two years. When tuna is on sale for 80 cents a can, I go buy 30 at CVS.?
At CPASS, we focus on introducing students from communities underrepresented in health care and technology to the wide range of opportunities in the fields. It?s clear that we have more work to do as a society, however, to ensure that once students have entered the profession, they find an equal chance to succeed.
Learn more about CPASS Foundation.
CPASS Foundation aims to open up the pathway of future jobs in healthcare and technology to underrepresented middle school, high school, and college students in Illinois. We offer exposure to STEMM careers in medicine and other fields that many students have even never heard about. Sign up for our emails to learn how you can help invest in a more diverse future for STEMM and healthcare.