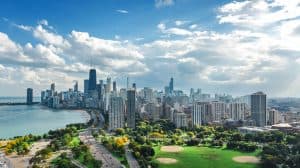 The Illinois STEM workforce is the sixth-largest in the US and growing fast. With an innovative job market and strong universities, students come to Chicagoland from around the world and often stay after graduation. Between 2013 and 2017, Illinois doubled the number of computer science degrees granted statewide, and Illinois continues to be an international leader in cultivating talent in STEM fields. There are jobs for these new graduates, too. In 2021, Chicago?s fastest-growing industries included software, healthcare and life sciences. Chicago?s startup scene is also thriving, with 375 tech companies founded in the last five years alone.
Unfortunately, many Black and Latino Chicagoans have been left behind. While most of Chicago?s population is Black or Latino, they make up only 14 percent of the city?s tech jobs. Some successful initiatives have helped to close this gap. The University of Chicago is working with City Colleges of Chicago, a network of community colleges, to build a more diverse STEM talent pipeline.
We at CPASS recommend that?communities focus on these strategies to help serve diverse communities:
Expand talent recruitment. Several Chicagoland universities have established internship and career pathway programs to connect diverse talent with future employers. Northwestern Feinberg School of Medicine, for example, has paid internships and mentoring programs for students in pre-med and nursing majors. Research shows that when Black and Latino students have opportunities to attend conferences and build relationships with scientists who look like them, they?re more likely to successfully complete a STEM degree in college. Businesses also are expanding their internship programs and recruiting at more diverse universities..
Reexamine hiring practices. To eliminate biases, experts recommend holding panel interviews, rather than one-on-one meetings. Large Chicagoland firms like architecture and engineering company Clayco have established diversity and inclusion goals and track progress of hiring and promotion targets using data. Clayco also developed a mentorship program that supports career advancement for workers at every level.
Invest in inclusive school and work environments. In the wake of experiencing racial microaggressions, Black and Latino students often report feeling a need to prove to their peers that they belong. At tech companies, senior Black leaders report having to outperform their peers to be successful and being lumped together with people who look like them. Successful business leaders report that diversity and inclusion are critical to build and maintain creative, collaborative teams and better understand a diverse customer base.
At CPASS Foundation, we are here to support traditionally underrepresented middle school, high school, and college students by introducing them to STEM subjects, majors, and training. We provide guidance and thought leadership to help create opportunities for students in Illinois to participate in STEM-related fields.?Contact Dr. Stephen Martin?to learn more about how you can partner with CPASS Foundation to create more opportunities for Black and other underrepresented students in the Chicago area.